Alfred has a feature that allows you to add more members from your owned Alfred account. You are allowed to add up to 5 users (Advanced plan) or unlimited team members on your own Alfred account (Professional plan).

As the owner of your team, you can manage their campaigns from your own dashboard. Edit and revised the existing campaign, see the campaign performance and daily updates as well as creating a new campaign from your own dashboard without logging into their Alfred account or LinkedIn account.

There are two ways to do this, either you access it from Billing page or by clicking on 'Team' at the navigation bar then select 'Manage team' page.

How to access this at the Billing page?

Just click on your profile photo within your Alfred dashboard and select Billing.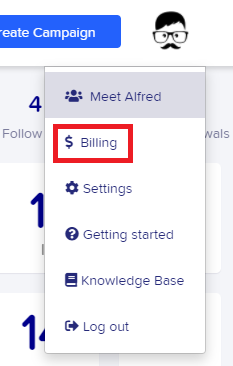 You have to click on Edit plan to proceed.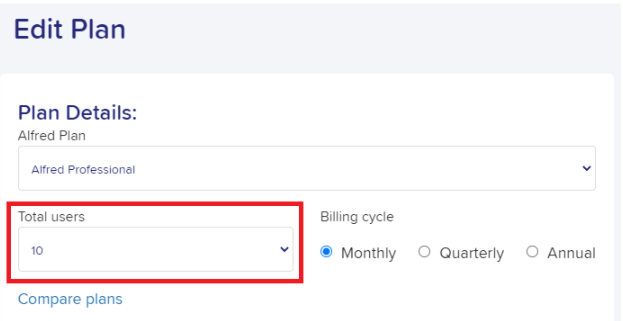 How to access it from Manage team page?
Step 1: Click 'Team' at the navigation bar and select Manage Team.

Step 2: Click on the 'Change number of users' button below.

Step 3: Once done changing the number of user you can now add members according to the number of users you have changed from 'Manage Team' page. Once done you have to invite member's using their registered email on Alfred. If in case that the invited user/member does not sign up yet you can invite them with their Gmail/GSuite email they wanted to use to register it with Alfred.
Please note that once you have change the number of users and click on 'Update' you will be charge immediately. The cost will vary depending on what subscription you are on.